How to choose a suitable powder coating gun
How to choose a suitable powder coating gun

When you want to start your home or small shop powder coating for the metal parts,you need arrange the suitable powder coating guns at first.A good gun can help you to save powder, let powder attached on metal surface well,long life time guns can save much cost for you too.
1. Hopper powder coating machine
It include a control unit, a trolly,a manual powder coating gun,a powder hopper, powder hose, air hose, powder pump, spray noozles and so on spare pars.
The hopper have a fluidizing function, so the powder can become much even when paint on the metal surface.
The control unit usually have some different function. Some brand controller is easy, such as two digital mould, that is old ,function is less,only can adjust voltage and current by hand. But this kind of gun working life is usually very long.Some new mould have more intelligent function,for example they can paint different shapes of metal automaticlly. For flat parts,deep corner parts,complex parts ......it can adjust the voltage and current automaticlly ,no need adjust by your hand.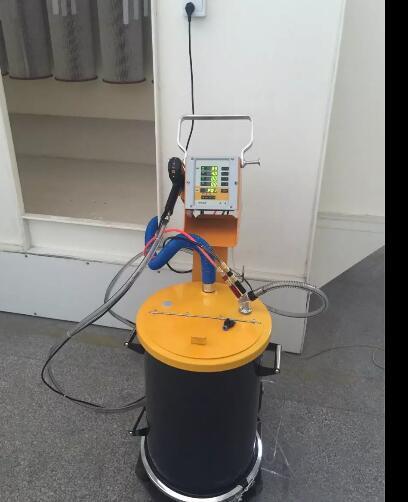 2. Vibrating powder coating equipment
This kind of powder coating system component is : a vibrating trolley+a manual podwer coating gun+powder control unit+ nozzles+powder pumps+powder hose and so on.
This kind of machine is without hopper, that is used with the powder box directly, so it is much easy to change powder. But the disadvantage is this one do not have fluidizing function due to without the powder hopper .